iAlthough a small startup, Symba has team members located around the U.S. and even Singapore. Our Chief Marketing Officer Ellen Zhang is based in Boston so Chief Technology Officer Nikita and I jumped on a plane to experience Startup Boston as a team.
Startup Boston, formerly known as Boston Startup Week, is five days filled with amazing events, inspiring people, and learning experiences. Check out some of the highlights for us at Startup Boston.
One of our favorite events was the first session we attended, Enterprise Sales for Startups: Finding Your First Customers. This talk featured Barry Hinckley, CEO at Yotme and Co-Founder of Bullhorn, Greg Smith, Startup Mentor & Angel Investor, Sravish Sridhar, VP and General Manager at Kinvey, Mary Rogul, Enterprise Sales Executive at Crayon, and Oscar-Wyett Moore, Account Executive, EMEA at Scalr.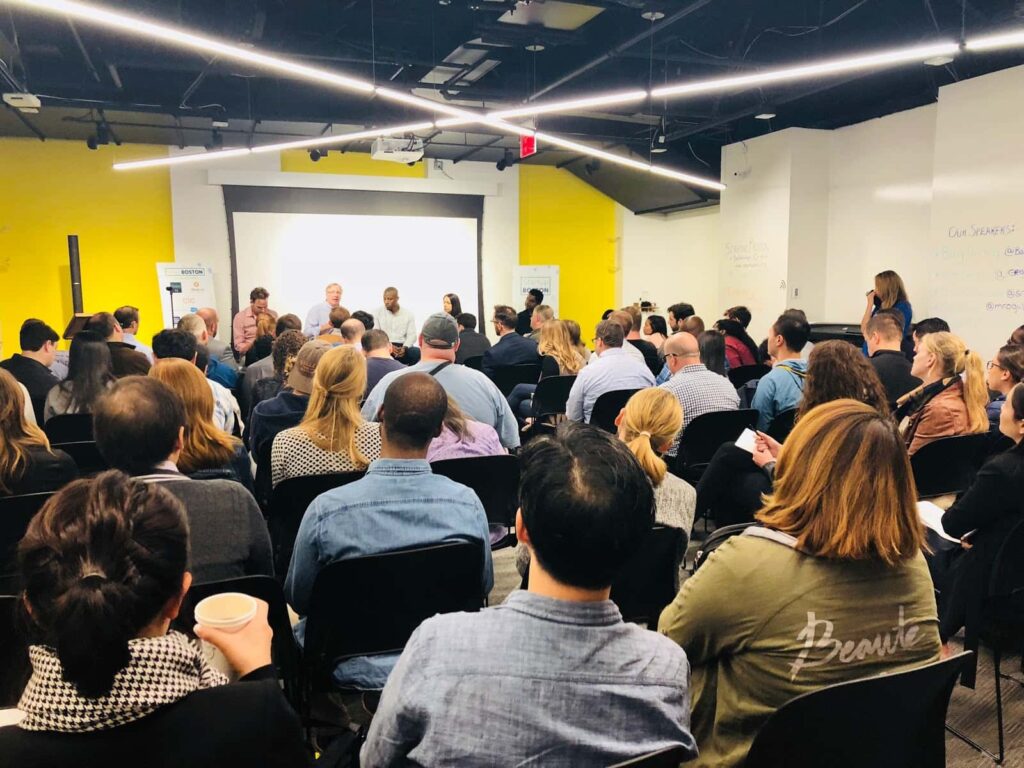 Here are 5 great tips they shared with us:
1. Never try to sell to everybody. Look for the people who love "new things".
2. Establish relationships and create trust to connect with the buyer. In doing so, really understand the customer and understand their pain points.
3. Don't charge the first 10 customers anything. Work with them to figure out the pricing model. Start with a "freemium" model.
4. Ask your first customers important questions about your product. "What is the value of this? How much would you spend for this? What budget do you have?"
5. Don't be afraid to give big companies your minimum viable product (MVP). Tell them about your roadmap and build those relationships to keep them close to your growth and the product itself. They'll be your customers for life.
This panel event was a perfect opportunity for us as we prepare to launch with our first customers. Second on our docket was Ask me anything with Elias Torres.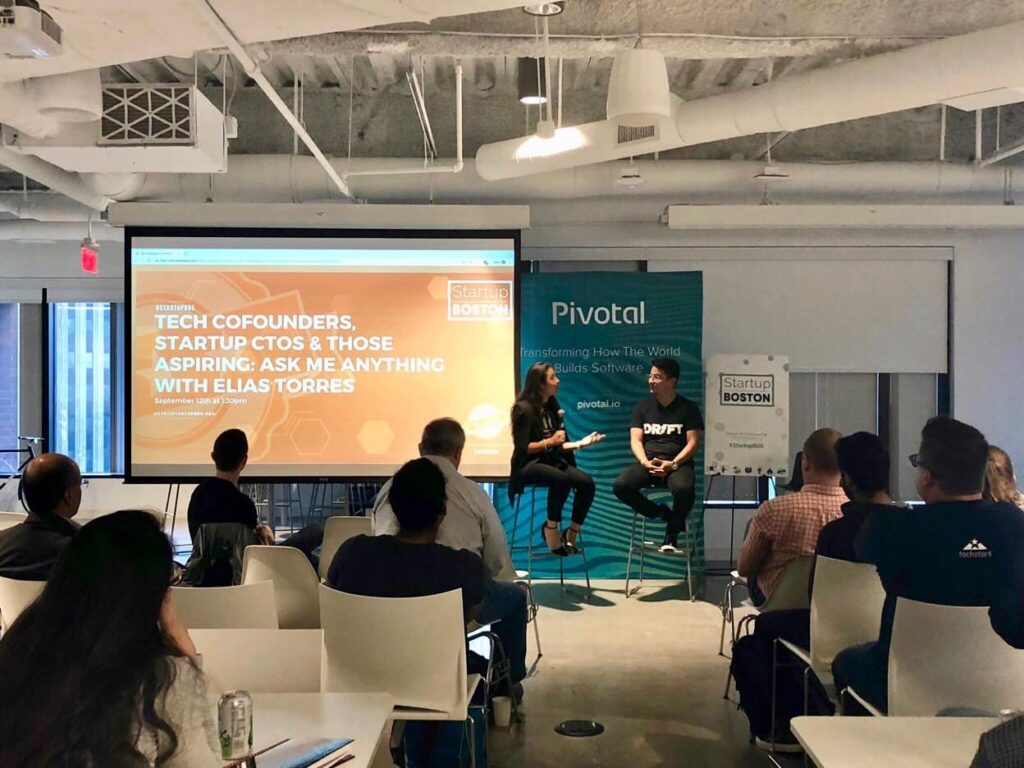 Both Nikita and I were able to get on stage to have a candid conversation with serial entrepreneur Elias Torres, CTO of Drift. Elias has been an investor and advisor for some of Boston's most promising tech startups. He served as VP of Engineering at Lookery before moving on to co-found Performable, serving as CTO through its acquisition by HubSpot, where he became their VP of Engineering.
He answered questions for us on product development, CTO/CEO relationships and company culture development. Some great tips from Elias included establishing company principles and values, regular all-team check-ins and great communication. Elias is all about building great teams first and his advice was very helpful for us as we begin crafting the origins of Symba's work culture.
During our time in Boston, we also had the opportunity to bond as a team. Symba is young and growing. Our team is extremely important. This was a great way for a large part of our founding team to get together in one city and spend valuable time together. We enjoy having the opportunity to represent Symba together and collaborating in-person.
Last but not least, we are thankful for all the awesome people we met from the Boston startup community! Hearing their stories was incredibly inspiring and helped us to recharge our momentum. We look forward to staying in touch and attending more events like this in the future! If you have the opportunity, you should attend Startup Boston next year.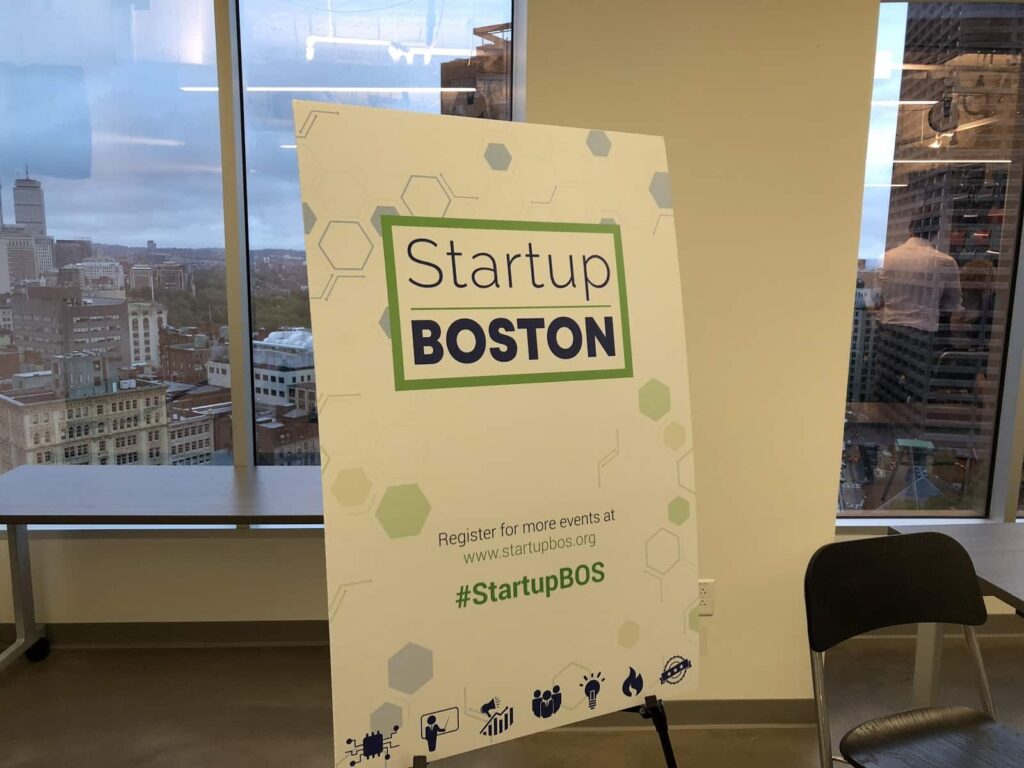 We also want to give a very special shout out to the organizers of Startup Boston. We were surprised to learn that it was all on a volunteer basis and that community organizers put together so many incredible events throughout the entire city of Boston. As our team navigates through our own startup journey, we have learned how important it is to have a community that supports our startup.