Last week, I spoke on the Social Entrepreneurship Panel for the annual World Bank's Global Youth Summit which commemorates #InternationalYouthDay. The Summit brought together over 300 young leaders from all over the world including young professionals, students, entrepreneurs, politicians, NGO leaders, youth activists, and more. We were excited to be a part of this valuable conversation engaging the next generation of international leaders.
I was invited along with speakers such as the President of the Global Peace Foundation Yeqing Li, Secretary General of the World Assembly of Youth Ediola Pashollari, and UK Alternate Executive Director of the World Bank Group David Kinder. Organizations including the Peace Corps, Alliance for Peacebuilding, Catholic Relief Services, and Young Leaders Institute also participated. The Summit commemorates #InternationalYouthDay every year and is a program highlight for the International Young Leaders Assembly (IYLA), whose theme is "Moral and Innovative Leadership for Peace and Development." It was truly an honor to participate in this event.
About IYLA

"IYLA is a partnership-driven leadership development program that empowers young leaders to positively impact their communities, nations, and the world. IYLA hosts university students, young professionals, and globally significant leaders at annually held interactive programs in the U.S. and abroad. Delegates acquire first-hand experience in leadership, join a lasting global leadership network and build a platform to tackle current critical issues."
To learn more about the IYLA, check out their website.
The Panelists and Our Discussions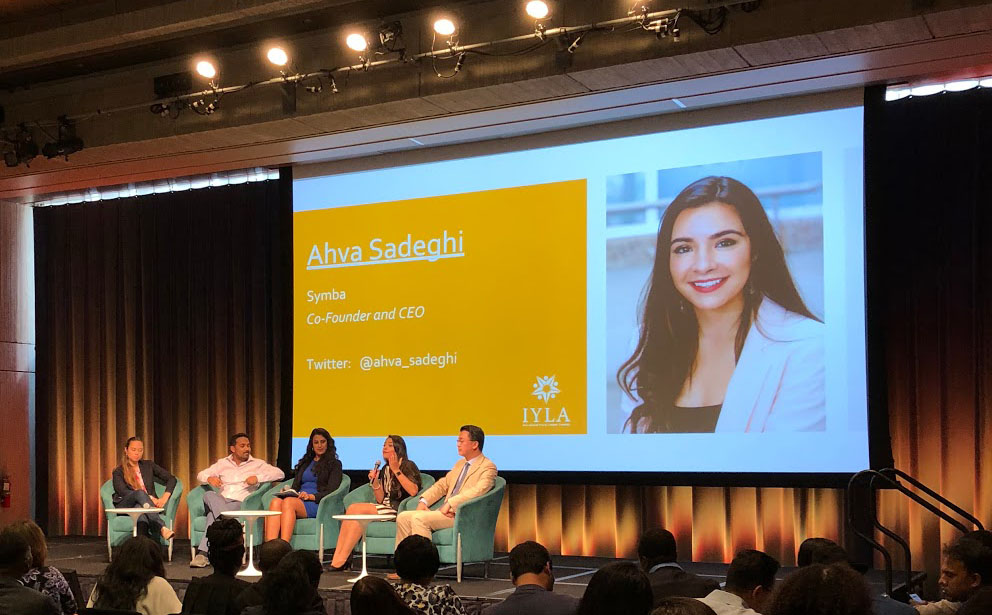 The Social Entrepreneurship panel included a range of speakers with backgrounds from startups to think tanks. The following bios introduce the panelists from left to right in the photo above.
Caroline Pugh, currently the Chief of Staff at CareJourney, previously co-founded VirtualU and was named Entrepreneur Magazine's "15 Female Entrepreneurs to Watch." She shared her incredible experience launching a startup at the age of 19, raising millions of dollars and having more than a dozen employees. Her outlook on success and hard work is incredibly profound. Her inspiring advice to the young audience was to seek out mentorship and leverage the power of being a young entrepreneur.
Ravi Kumar, founder of Code for Nepal, shared his humble beginnings of going to school in Nepal without proper water and sanitation. He said that he never takes for granted these basic resources and strives to make every effort to give back to his country of Nepal. One of the most powerful quotes he shared was, "While focusing on your passion, do not ignore what the society really needs." Ravi spoke to the importance of listening to society's problems to create solutions. As he shared, "the world does not need another platform to help you find friends."
The panel's Moderator, Saleema Vellani is the Co-Founder and COO of Innovazing, an education and leadership development firm that strives to help organizations cultivate more impactful leaders. Saleema is passionate about empowering the developing world through technology, innovation, and entrepreneurship. Saleema teaches Entrepreneurship at Johns Hopkins University's School of Advanced International Studies (SAIS) and co-leads the World Bank Group's largest and most inclusive mentoring program for the Youth-2-Youth Community. Saleema turned the panel into an engaging dialogue by diving into questions about major challenges we face as entrepreneurs and involved the audience by having young leaders stand up to share their key takeaways from the panel discussion.
During the panel, I sat next to Saleema and shared my own personal journey shifting from an academic and professional career in economics and human rights research to founding a for-profit social enterprise, Symba. I spoke about how the private sector can work to achieve positive social impact and advance the United Nations' Sustainable Development Goals. In keeping with the spirit of International Youth Day, I was asked about how my young age impacted my role as a CEO. I opened up with the young audience and explained that it is important to come to the table prepared more than ever. As the great inventor Alexander Hamilton once said, "Before anything else, preparation is the key to success." If you are prepared, you won't waste time worrying about how young you are. I left the panel with two tokens of advice: 1) be a listener to the problem you are trying to solve, and 2) you don't need to ask permission to start doing good.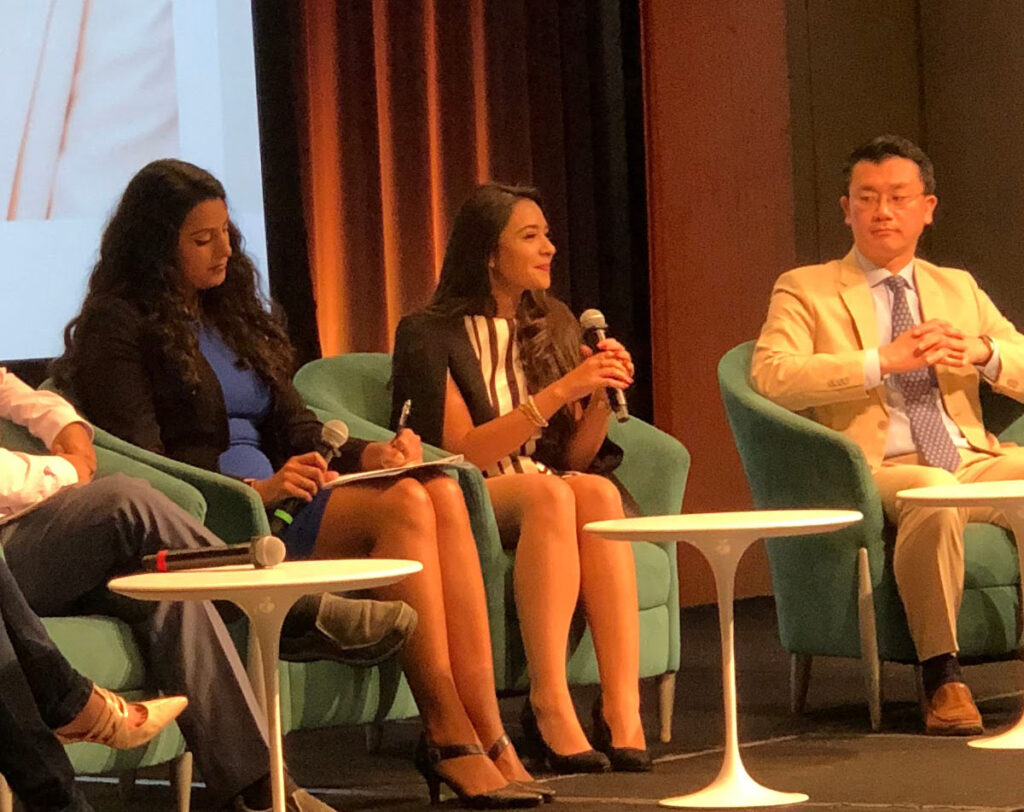 The final panelist was Anthony Kim from the Heritage Foundation who brought an interesting perspective of entrepreneurship from an organizational point of view. One of the major points that he made, resonating largely with both the audience and the panel, was that entrepreneurship requires strategic patience. There is no linear path to success so you cannot allow yourself to be burned out by failure. Mr. Kim stated that there will be many failures behind every success.
Key Takeaways
After the panel discussion, audience members approached the microphone to share how much they valued the discussion and felt truly motivated. I was inspired by the youth in attendance, and I stayed at the stage for over an hour to exchange stories, share contacts and take selfies with young entrepreneurs from around the world. This opportunity fueled me with the passion to continue our exciting work at Symba and to take our startup to the next level. Symba is excited to go global and work with international organizations and universities to serve students seeking opportunities around the world. Last week, our CTO Nikita Gupta also presented at the Czech Technical University in Prague. Symba is incredibly honored to be a part of the conversation on social entrepreneurship and strives to advance an important social mission with our enterprise.
We would like to give a special thank you to the organizers of the event including Holti Banka, (Co-Chair of the Y-2-Y Community at the World Bank), Kimihira Miyake (Program Specialist, Youth Engagement and Leadership Development at Global Peace Foundation), and Bukola Solomon (Program Coordinator at Global Peace Youth).