Last week, we kicked off our #ILoveMyInterns series, featuring Colling Media's Marie Miller-Rodriguez. We interviewed her about her experiences as an intern manager. This week, we are excited to turn the tables and begin our #LifeOfAnIntern series! Part One features CTO Nikita Gupta's sister and Stratosphere IPS intern Radhika Gupta. Read on to hear about her amazing experience at her cybersecurity research internship in Prague.
Tell us a bit about yourself.
My name is Radhika Gupta and I am currently a Computer Science major at Carnegie Mellon University's School of Computer Science in Pittsburgh, Pennsylvania. I'm also an International Relations minor passionate about social good and cybersecurity. I'm in Prague this summer working for the Stratosphere IPS project under the Czech Technical University of Prague.
Sounds very cool. How did you land this internship?
Well, it all started the summer before my sophomore year. I cold emailed all the female professors in the Computer Science department asking if they had any research opportunities available. Research is an incredible way to apply what I learn in class, and is also an opportunity to learn about fields I don't have time to take a class for. Carnegie Mellon has cutting edge and groundbreaking research that I wanted to take advantage of and participate in.
I got one response, from the incredible Justine Sherry. Justine is an assistant professor and teaches classes on computer networks. She immediately took me under her belt as her mentee and introduced me to Sebastian Garcia and the Stratosphere Lab. Justine called me into her office one day to see how my internship search was going and I told her I was still interviewing. We talked and dismissed the idea about studying abroad because I wanted to gain hands-on work experience, and she suggested that I do an internship abroad. She forwarded me Sebastian Garcia's contact information and informed me that he runs a lab in Prague that helps prevent and identify cyber attacks for NGOs. Slowly everything fell together - I got my parents on board, Justine and Sebastián (AKA Sebas) officially hired me, and I continued to discuss with Sebas my potential projects for the summer.
What have you been doing during your internship?
Cybersecurity for NGOs! It's too good to be true. My 10 weeks here have consisted of analyzing real malware threat attacks, designing and developing a solution in Python to facilitate the search of Indicators of Compromise (IoC) from a main analysis interface called Manati into the Hadoop Big Data cluster, and working on a survey of security needs for NGOs. The area of cybersecurity was new to me but now because of Sebas and the rest of the lab, pursuing a career in cybersecurity is a strong option for me after I finish my studies.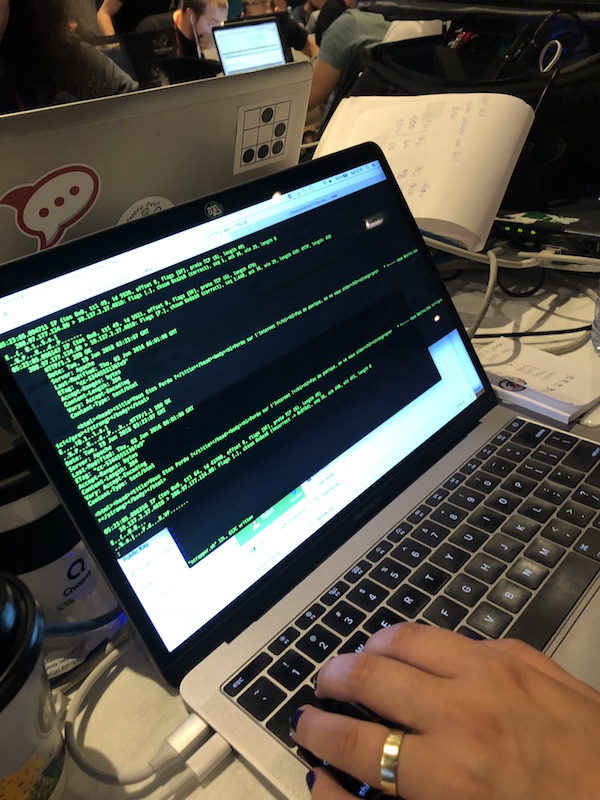 What are some unique experiences being at your internship has offered?
Besides work, I have also been traveling throughout Europe. I met and had tons of fun with awesome coworkers. As a team, we went to Paris together for two security conferences (you can read more about it here), explored the Czech Republic together, and my favorite weekend of all - went up to a cottage in the mountains for a Stratosphere hackathon (go #stratoteam!!).
What are your plans for after your internship?
With Justine as my advisor, I plan on continuing my research with Sebas and the Stratosphere Lab this semester at CMU. My goal is to spend the semester writing a paper and submit it to a conference.
What are some things you've learned from your internship and advice you'd give to other interns?
I think a couple big misconceptions people have about doing research is that 1) they don't have enough technical skills or 2) research is pointless because they don't want to go to grad school. Both couldn't be more wrong because 1) I started doing research with Justine only after my freshman year and I hardly coded before coming to college; and 2) research is more than about publishing papers for grad school - it's about constant learning. For example, Justine hosts reading groups where various papers are discussed and lunches where we talk about what's going on in the field.
Research has opened so many doors for me - it lead me to cybersecurity, Prague, and meaningful relationships. I'm not going to stress how important an internship is - we all know having an internship is the most constructive way to spend your summer. What I am going to stress is to try something new! My internship is technically a research internship, but I did do a good amount of developing. I also wrote a technical blog and started an academic paper. If you want to work for a big software company, most of them have a research division...you should apply! If you don't like it, an internship is not permanent, but you will never know until you try.
Anything else you'd like to share?
This article only touches the tip of the iceberg about my summer - but if you want to learn more, contact me! You can reach me at radhikag@andrew.cmu.edu or @superradhika.