The Symba Spotlight Part 13: Bunmi Anjola Adaramola
Bunmi Anjola Adaramola, a student at the University of Manchester, recently completed an internship with SheLeadsAfrica, where she led inititiaves to help increase employee engagement. Bunmi was truly able to take the lead at her internship, as she was even included in the process of onboarding another intern. Read more about the leadership skills she enhanced and obtained in her Spotlight.
Tell us about yourself.
I am a current student at The University of Law, Manchester. I am currently an Operations Intern at SheLeadsAfrica and an Editor at The Student Lawyer.
Tell us about your remote internship. What is your title, and what are the projects and daily tasks you work on?
As an Operations Intern at SheLeadsAfrica, I work on creating themes for monthly team wellness calendars and daily activities to encourage employee engagement and interaction. This involves coming up with creative ideas for daily activities which can be done remotely, are still enjoyable and encourage team members to participate. I also create monthly designs and graphics to match each month's theme. I have also conducted an onboarding session for a new intern. My most recent task involves working on an article for the HR blog.
For each day, I create a to-do list which simultaneously acts as my check-in, which I then upload to the main communications channel. This lets my direct manager know what I am working on each day and whether to allocate new tasks with higher priority to me. As the day progresses, I complete each task on my to-do list, depending on whether I have been allocated any new work from my direct manager. My daily tasks also involves updating the team channel with the daily activities and updating the leaderboard accordingly.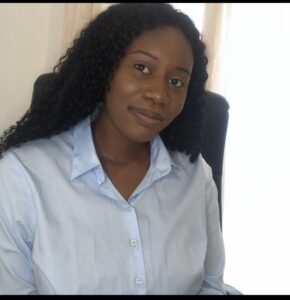 What are you enjoying most about your remote internship?
I like the fact that I'm constantly being challenged in my way of thinking. SheLeadsAfrica is an organisation that strives for excellence in everything they do and it is so reflective in the way the team members and employees handle tasks and present information. One of the core company values is Level 2 Thinking and to me, this means challenging the way I approach problems and offer solutions. This allowed me to push myself out of my comfort zone and discover my strengths and weaknesses beyond my boundaries.
What new skills have you learned so far?
Throughout my internship, I have been able to develop my communication and collaboration skills as I have worked directly with my manager and also interacted with other team members. I have further improved my ability to manage workload, prioritise tasks and take on high levels of responsibilities.
How have your company and internship manager supported you through your internship?
I'm grateful for my amazing supervisor (The Head of Operations) who constantly provided me support throughout my internship. As someone who is always self-conscious and cautious about making mistakes, I constantly reached out to her for feedback on all the tasks I carried out.
Other team members also supported me with constant words of encouragement and regular participation in team activities I set, and this in itself was really encouraging. The culture at SLA is extremely supportive and people are always eager to help at any point. This is something I've definitely imbibed from SLA and passed this on to the newest intern in my team.
What advice would you give to other interns about to embark on their first remote internship?
Always keep an open mind and be constantly willing to learn. You never really go into these internships knowing everything- for me, all my tasks and responsibilities were completely hands-on and so I learnt on the job. If I didn't have an open mind I would have easily become frustrated in the new environment I found myself in.
Also, ask for feedback and provide your own opinion/solutions where possible. This definitely stands you out as someone who's not just interning to 'fill their CV', but is actually interested in learning about the company and gaining new skills.
By Anika Pasilis